Managing anxiety and increasing success rates for Students – a professional approach.
Students attending community college face significant stressors regardless of whether they are young students making the physical and psychological transition to greater independence or mature students dealing with an overwhelm of responsibilities as well as their academic programs. These challenges surface in their physical, mental and emotional health, their relationships with friends, partners, parents and teachers, as well as unhealthy use of addictive substances.
Dr. Rebecca Cox provides meticulous research in her book, "The College Fear Factor", linking student anxiety to academic failure and low retention rates, especially among first–generation college students and adults recovering from trauma. The strategies they use to manage this anxiety: not handing in assignments, not going to class, not taking tests, not asking questions often reduce the anxiety in the moment but eventually destroy their ability to succeed.
The adults working in the college system have the challenge of finding ways to help students manage anxiety so that they can create and implement a more successful plan, and doing so while taking care of their own health and attitude in a stressful time of declining resources and increasing expectations.
Emotional Freedom Techniques (EFT/tapping) is a remarkably effective body/mind self-help method that combines a gentle touch with mindful and vocal attention to thoughts and feelings. EFT involves tapping with our own fingertips on acupressure points on the hands and face while temporarily focusing on the issue we wish to resolve.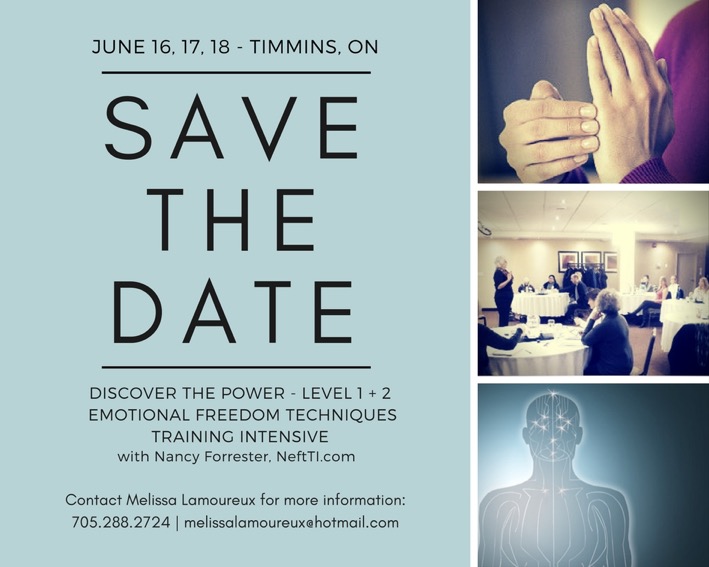 Cutting edge trauma research together with advances in neuroscience confirms the value of body-centered interventions, including stimulation of the acupressure points as in EFT. Over 100 peer-reviewed studies of the effectiveness of Energy Psychology/EFT, of which twenty are the gold standard randomized control trials, show a resounding 98% effectiveness.
These studies show that EFT is a highly effective self-empowerment strategy and it speeds up, anchors and expands the benefits of various psychotherapeutic, medical and coaching interventions. Human service professionals find their clients experience faster, gentler and more permanent improvements and that using EFT for themselves alleviates the stress and burnout often associated with these occupations.
The National EFT Training Institute (NeftTI.com), Nancy Forrester Executive Director, provides professional standard training, supervision and certification for current and aspiring helping professionals to integrate the power of EFT into their lives and work. The foundational program is DISCOVER the POWER of EFT, an internationally accredited Level 1 and 2 Energy Psychology training.
Experience of Professionals using their NeftTI Training
"Conventional strategies aren't working. The majority of students seeking counseling are in high anxiety or depression. Mindfulness, yoga, talking all help but they don't intervene powerfully enough or quickly enough. When a suicidal student in my office is cutting himself or herself in front of me, I need something to do right then which will help them feel better fast. EFT has literally been a life-saver for me in my work with students."
Robyn Lange, M.Ed (Counselling), RP.
Counselling and Student Wellbeing Services, Student Affairs
George Brown College
"EFT empowers all students to build resilience through self-regulation techniques that support their success during college and afterward, as they develop their professional skills. EFT training also supports professors in creating trauma-informed curricula for optimum classroom success."
Jane Buchan, MA,
Community College of Vermont Professor
Accredited, Certified EFT Practitioner (NeftTI.com)
"Since taking the DISCOVER program with Nancy at the National EFT Training Institute, I have been immersed in bringing Emotional Freedom Techniques to all my clients with superb results. Thank you Nancy and NeftTI from the bottom of my heart."
Tracy Friedman, MSW, RSW, Ed.D
Continuum Wellness.ca
"EFT has changed my relationship with my work. As a constant learner over 30 years as a psychotherapist and counselor, I accumulated a huge repertoire of traditional talk therapy based techniques. However, talking to people about their problems is draining. At the end of the day I was exhausted and had nothing left to bring to my family and my non-work life. Using EFT and Energy Psychology modalities in conjunction with everything else I know has enlivened both my work and my life. EFT has helped me enjoy working with my clients and enjoy seeing them make progress more easily and quickly. And, at the end of my day I am energized, I am healthier and am ready to engage fully with life."
Lynda Rees, M.Sc (Counselling)
Integrative Health and Relationship Consultant,
Approved Supervisor, American and Ontario Association of Marriage and Family Therapy.
Certified Advanced EFT Practitioner (NeftTI.com)
Join us in Timmins June 16,17,18 (Friday, Saturday, Sunday) for a special live 3 day - DISCOVER the POWER of Emotional Freedom Techniques Professional Training Program (Fully Accredited Level 1 and 2 – AAMET International)
"Discover the Power of EFT is impactful and uplifting! Nancy facilitates in a way that supports easeful learning. I am feeling confident about my foundational skills – and looking forward to the next level of training and support."
Claudia Adair, Acting Campus Director
Academy of Learning Career College, Bay/Bloor Campus Toronto