Top 5 ways to know if you'll love NeftTI's spring training, DISCOVER the Power of Emotional Freedom Techniques.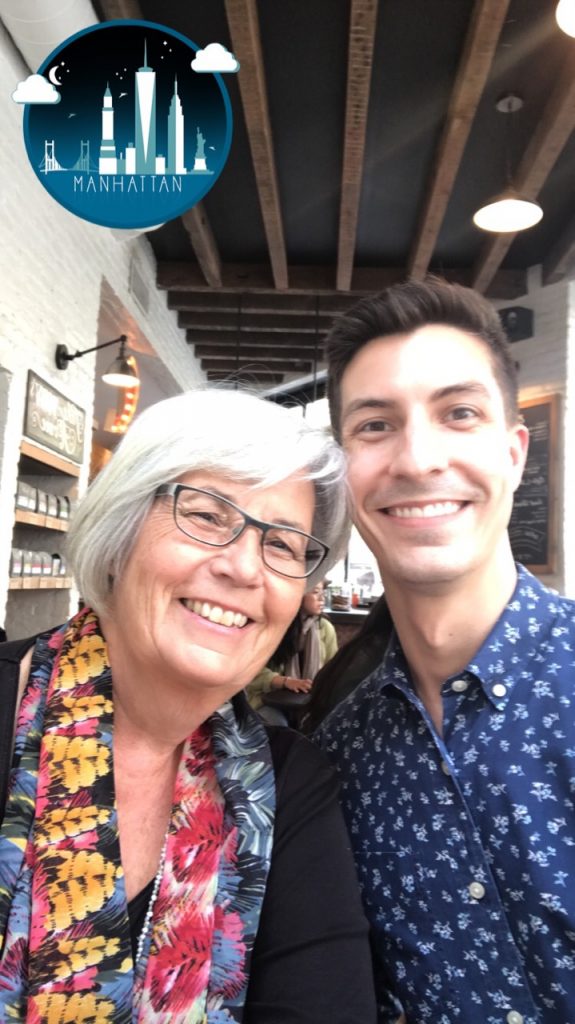 For over 15 years, I've trained individuals and practitioners (health and wellness, educational, business, peak performance) to bring EFT/Energy Psychology more deeply into their lives, families and careers.
I've interviewed well over a thousand people to determine if training is a good fit for them. Listened to amazing stories about how people found EFT, and then found training with the National EFT Training Institute.
I've borne witness to their stories of suffering, and then celebrated their tears of gratitude for the healing and possibilities EFT has already brought them. And I've celebrated their passion to explore what deeper training could allow them to be, do, or have as an individual and/or a practitioner.
Their stories, and my own gratitude for how EFT has transformed my personal and professional life are what have me at Starbucks at 8am on a rainy spring Monday in New York's West Village creating a quiz that I hope will inspire YOU to decide training with NeftTI is a fit for you.
In my years of training EFT – the only regret I've ever heard about taking the DISCOVER training is that they didn't do it sooner. So let's not lose any more time in re-training your biology toward health and happiness.
You'll experience a difference in your life, your loved ones will thank you and, if you are already a helping professional, your clients will be truly appreciative.
QUIZ
This quiz is based on what I've learned from all the conversations with people before training and then watching what happens for them during training and afterward.
On a scale of 0 to 10, where 10 is 'totally true for me', rate yourself on the following attributes:
1. I am open to learning more about the new paradigm of healing and growth that EFT represents. ____/10
EFT is the leading edge of the evolutionary field called Energy Psychology (EP). EP is a group of 60+ modalities that include in their methodology a focus on the human subtle energy field. The subtle energy field includes acupressure points, meridians, chakras, and the bio-field.
Optimal energy flow throughout the subtle field has been the focus of the eastern philosophy of health and happiness for thousands of years. Chinese doctors, for example, used to be paid based on the extent to which they ensured a patient's healthy energy flow. They received payment when their patients were healthy and not paid if the patient became sick.
With Western science now confirming the physical existence of this subtle energy system as our most foundational biological structure, EFT's integration of direct manipulation of subtle energy with the more traditional focus on emotion, thought, behaviour and neuroscience gives trained EFT practitioners the most inclusive paradigm of health and development available today.
What was your experience as you read these paragraphs? Excited? Intrigued? Skeptical?
If you were totally dismissive, highly defensive of your current beliefs and modalities, maybe even cynical, then professional EFT training is not a good idea for you right now.
Start with the free manual download at AAMETInternational.org and give yourself some time to have a personal experience with EFT.
Let's be clear though – I'm talking about cynicism not skepticism. Skepticism is welcomed in the training. Even though I've been practicing EFT personally and professionally for 18 years, and my skepticism has hugely decreased over the years, there is still a part of me that finds it difficult to accept that EFT works as quickly, gently and thoroughly as it does. Moving into a new paradigm completely is a gradual process.
If you are intrigued, maybe even excited, with these ideas and see them as a door opening to what Gary Craig, the founder of EFT calls, 'the ground floor of a healing high rise', then Discover the Power of EFT is a good fit for you right now.
2) I am willing to address my own personal issues in my EFT training program to truly experience the power of EFT. ___/10
You know that old saying, 'If I had a nickel for …' Well, as a psychotherapist, coach, trainer using EFT, 'If I had a nickel for every time I've heard someone say, 'I thought I'd dealt with that'… That's because, as useful as our traditional cognitive behavior focused therapy/coaching modalities are, at a deeper level, human experience is emotional and energetic.
Working from a rational perspective is useful and necessary, but it's ability to safely and permanently shift core patterns that are firmly established at the energetic emotional subconscious level is limited. Using EFT's integration of the rational with the emotional and energetic allows safe access and release at the non-conscious levels where old patterns and traumas are strongly held. Doing this deeper non conscious release work first then allows the tradition approaches to be faster and more effective.
If you're hoping that Discover the Power of EFT training is only an academic exercise, full of powerpoint slides and theoretical discussions, or maybe you fully believe that you are finished with your own healing and growth work, this training isn't for you. Yes, we cover the academic information required, and you'll see demonstrations of client sessions, but the majority of the training is designed for supported hands-on practice sessions so you can experience the power and process of gold standard EFT for yourself.
If you're currently amid an overwhelming emotional crisis, it might actually be a great time to take the training in order to learn powerful skills to manage it more effectively. However, it's also worth considering whether you'd be better served in private sessions with a trained EFT professional at this time.
If you know that healing and growth is an ongoing part of the human journey, and if eliminating your suffering and reaching your 'best self' is an important priority for you, then you'll love learning a deeper level of EFT skill to support your transformation. Quantum science shows us that health and happiness are truly possible for each of us. Or as Gary Craig says, "Always more to do."
Register here for DISCOVER the POWER of EFT training.
3. I love helping others feel better, see things differently and act more powerfully. ___/10
Certain of us are 'called' to be of service to others. Whether the title is 'teacher', 'mental health therapist', 'yoga teacher', 'social worker', 'business coach', 'reiki master', 'parent', etc. the energy of the calling is the same: providing service that enriches and empowers the lives of others is profoundly satisfying to us.
Over the years of interviewing people pre-and post EFT training, I learned how difficult it is for people who are called this way not to be in a position to provide it. In fact, that's my story of how EFT entered my life. I was a 'successful' psychotherapist who got dis-illusioned with the extent to which traditional therapy could provide safe, significant and sustainable change. I was 'called' to discover something that served clients better and so fulfilled me more. I've been learning and growing with the field of EFT/EP ever since.
In hindsight, I can see how much power I ascribed to the multi-degrees and credentials hanging on my office wall. Today, I can see how putting the power in the papers held me back from experiencing greater freedom in both my personal and professional life. Today, I value my academic programs as part of my journey AND I understand that my deepest ability to be of service to others lies inside my ability to create authentic happiness in myself. Paraphrasing the powerful therapist Carl Jung, 'the greatest gift you can ever give to others is your own happiness'.
If you are happily attached to a human service model that is about you being the 'expert' in the room, professional EFT training probably isn't for you. EFT empowers the client in the relationship; the client is the expert in their own life while the practitioner is only the expert in the EFT process. It is a model of 'being with' rather than 'doing to'.
If you believe that every human being, regardless of the seriousness of their current distress, has a deep need to be seen and valued, and that healing and growth happens within a relationship that meets those needs, then without a doubt you'll love EFT training and enjoy integrating it into your existing repertoire of techniques.
REGISTER HERE for the next DISCOVER the POWER of EFT.
4. I would love to be part of a community of like-minded people growing together. ____/10
People are energetic, emotional beings that have a profound influence on each other. Energy and emotions are both contagious. Without a community that holds a similar paradigm of beliefs, we often find ourselves demanding support from family, friends, colleagues who simply don't hold that perspective. That often has a negative impact on those relationships.
Having a community of like-minded people interested in sharing successes, challenges and learning leads to a synergy that creates momentum and moves everyone forward. At NeftTI, Discover the Power training is the beginning. At Discover, you'll find like-minded people, and after Discover you'll join a community that continues to learn and grow together. You'll also find smaller special interest groups that are bringing this work to specific markets, like education, first responders/vets, hospice, etc..
If you have a dream about who you'd like to help, you'll find others at NeftTI who want to work with you toward that dream.
After so many years of doing EFT, I've cleared a lot and boy, do I experience life in a profoundly different and more enjoyable way. And the truth is, there is even more freedom and possibility available for me. I need people and communities who will hold me accountable to my dreams, and who will help me clear what is holding me back. And who will allow me to do the same for them. Being on the journey with a community significantly increases the chances that I'll stay on the journey.
While much can be done by ourselves, with ourselves, we are simply blind to what we cannot see.
If these paragraphs both excite you and also create some anxiety … that's the perfect combination for EFT training!
Register here for DISCOVER the POWER of EFT training.
5. I want to protect myself from the dangerously high rates of burn-out in the human services professions. ____/10
There is a reason why potential clients routinely tell me how difficult it has been for them to find a helping practitioner who is willing to truly hear them, see them and accept them for who they are. When I ask what their experience has been with previous practitioners they share stories of sitting for long times in waiting rooms, practitioners dealing with emails and phone calls during their sessions, practitioners talking about being exhausted. The result is that they, the client, feel unimportant, dismissed and uncared for.
Often that's because, for the practitioner, listening to the stresses and stories of their clients is contagious. There is a price they pay for the compassionate hearts that bring them into the profession. Without an ability to protect themselves as they listen to client stories, they energetically (unconsciously) take it in and finish their day depleted and unable to engage in the rest of their lives with enthusiasm. Over time, this depletion of energy impacts their health as well as their relationships.
With EFT training, you'll learn how to use EFT on yourself before, after and during sessions. This provides practitioner protection that allows stories of suffering to move through them more easily. The practitioner experiences increased resiliency, presence and intuitive insight to the core patterns keeping clients stuck. They finish their day energized and eager for what is coming next.
If you're ready to grow personally and professionally, join us for the next DISCOVER the POWER of EFT Training