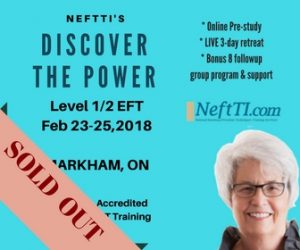 FEB TRAINING is SOLD OUT!
The February DISCOVER the POWER Level 1 and 2 EFT Training in Toronto is Sold Out. 
If you are registered but need to complete payments on your training, click here for tuition payment.
The NEXT training opportunity in Toronto is June 1-3, 2018
Training Readiness Pre-study is available upon online Registration.
The pre-study information, found in our "STUDENT ACCESS" area, will prepare you for the 3-day Live Training Retreat and counts towards 3 hours of your course hours.