Two Great Opportunities to Learn EFT this WINTER!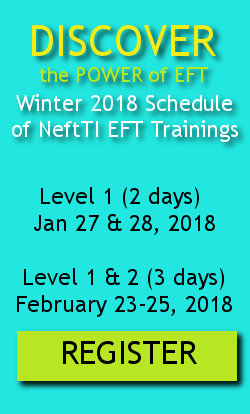 DISCOVER the POWER of EFT Trainings - Fall 2017
There will be 2 locations offering the core foundation trainings in EFT, a prerequisite to Certification.
January 27-28, 2018 in Markham, ON with Jane Buchan and Nancy Forrester
February 23-25, 2018 in Markham, ON
Join Nancy Forrester for 3 days of intensive, interactive and highly engaging training in EFT. This is a 3 day professional training. Nancy's classes fill super-fast so be sure to claim your seat early.
Learn more
The NeftTI PathWay to Power
NeftTI's is the premier EFT training institute for human service professionals who want to get better results for their clients than traditional therapy alone can deliver.  NeftTI provides professional training & certification through in-depth training, hands-on mentorship, and rigorous practical development. There are three milestones along the NeftTI professional training track.
Here's What People Are Saying About NeftTI...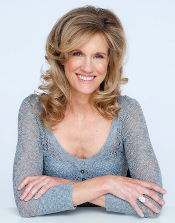 Working with Nancy shed incredible light on how i was living my life, running my business and how I could redirect my negative emotional response using EFT techniques. I was a non believer in my past life but after seeing the results with EFT I am really living my life and growing my business with ease and grace and now have the tools to change my energy in a heart beat!
~Odette Laurie~
Business Coach, Speaker, Author
Women on Top Business Coaching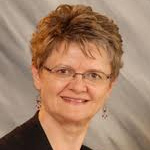 "I can't adequately express my appreciation for Nancy and this program. It is beautifully designed to enable me to experience the transformative impact of EFT in my personal life, to expertly incorporate EFT into my counseling practice, and to challenge me to develop myself and my business so that I am fully offering my gift to the world. It has been the most empowering professional development I have experienced in my 24-year career. As a mentor, she provides just that right balance of challenge and encouragement. Besides all that, she's got a great sense of humour!"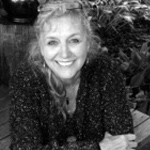 "Nancy shines as an EFT trainer, making EFT concepts clear and comprehensible. EFT is a gentle way to shift old patterns and learning these techniques in Nancy's classes is an emotionally transformational and joyful experience. I strongly recommend you take your EFT training from Nancy. Her teaching skills and therapeutic expertise are superb."